Use the Viral Mailers / Viral List Builders below to promote your offer today!
What are Viral Mailers and How does Viral mailer Marketing work?
In a nutshell:
You read emails of other online marketers click on their ads and earn "credits" and with some also low amount of money for viewing them.
These credits can be used to promote your own offer. Simple!
Still there are limits on how often and on how many credits you can use.
When you upgrade your accounts you'll most of the times be able to send out your emails more often and use more credits.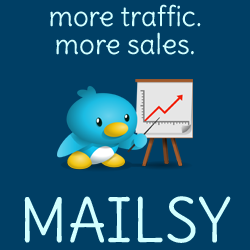 Mailsy.net has NO limits on the number of members you can mail. All you need is credits.
For Mailsy: Use promocode "Super" to get started with 1000 to mail all my friends right now!
Viral List Builder Plus for example is taking the anonymity out of Email Marketing and is also providing you with a way to brand and engage with your audience just like with Bweeble a similar viral mailer. Click here to see my Bweeble Branded Product Page
If you join viral list builder plus for free today you can use promo code 'brandyourmail' for 1,000 free email credits.
Next viral mailers you could join
I also want to share with you a simple yet funny way to getting better results. You see people actually do read these emails from viral mailers especially the subject lines.
That's why it's important to create catchy but intriguing subject lines to improve your results. That coupled with a quality viral mailer such as Safari Mailer
=> http://www.jobsonlineplus.com/safarimailer
For more tips to improve your viral mailer marketing check out my blue print: How I made $212.50 in affiliate commissions using Viral Mailers!
Next mailers:
Paid Pro List Builder $10 Only 50% Commissions per Referral!
Easycashlistbuildingsystem.com
Recommended Resources to Improve Your Viral Mailer Marketing
Make sure to also check out this free video presentation that will
teach you how to write e-mails that demand
attention and pull in the most cash.
Enjoy,
Oliver Ohene-Dokyi
(Visited 12 times, 1 visits today)